Remembrance Sunday in Castle Combe 
Assemble 10.45am by the War Memorial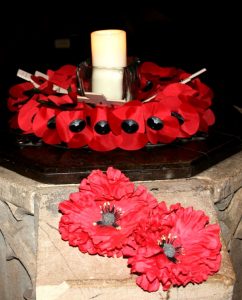 Every year, at 11am on 11th November, the nation falls silent for 2 minutes in a shared act of remembrance of the fallen, to honour them and to pledge to care for the living. This also takes place at 11am on Remembrance Sunday (the Sunday closest to 11th November – Armistice Day). 
This year, St Andrew's Remembrance Sunday service will take place on Sunday 14th November.   The service will begin at 10.50am in front of the village war memorial and representatives from the Royal Corps of Signals will be joining us and be parading.  After the service by the village war memorial, the service will continue inside St Andrew's.  Coffee and tea will be served after the church service. 
Commemoration of the Centenary of The Royal British Legion and The Poppy Appeal
Remembrance does not glorify war and, its symbol for 100 years, the red poppy, is a sign of both Remembrance and hope for a peaceful future.
From the end of October, it is possible to donate and take a poppy from the area set aside for this inside the church.  Funds raised from the Poppy Appeal go to the Royal British Legion charity, which uses them to support the Armed Forces community.
Festive Coffee Morning
10.30am – 12pm
Wednesday 8th December, 2021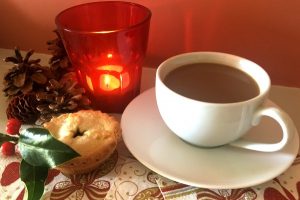 In the run up to Christmas we welcome you to St Andrew's on 8th December for a festive coffee morning. 
Meet your friends and others here and be the first to see the church decorated for Christmas. A warming cup of coffee or a glass of mulled wine will be available along with mince pies and other seasonal goodies.
Refreshments are free of charge as a result of local donations for the event. Further details to follow.
Christmas 2021 at St Andrew's
Festive Coffee Morning Wednesday 8th December 10.30am -12noon
See above for further details. 
Christmas Decorations in the Church from 8th December
Please do come and visit the church during December when it is open every day in daylight hours. 
From 8th December, the church will be decorated in traditional English Christmas style, and we hope you will enjoy visiting and soaking up the spirit of the season. 
If your visit is outside a church event time when refreshments are served, The Castle Inn and The White Hart pub, both across the road from the main gates to the church, offer a wide selection of drinks and food.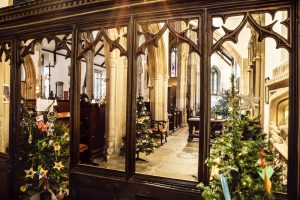 Candlelit Carol Service Sunday 19th December 6pm
In place of our usual 3rd Sunday Family Service, we are delighted to have our annual candlelit carol service in St Andrew's once again. 
This is a lovely opportunity to sing favourite carols and hear the Christmas Story. 
Afterwards, when mulled wine and other Christmas refreshments are served, there is a chance to catch up with friends and meet others from around the village.  We hope you can join us.
Christmas Eve Holy Communion by candlelight – 11pm
Our Christmas Eve Holy Communion service is a wonderful way to celebrate the arrival of Christmas and the birth of the baby Jesus.
We welcome everyone living or staying locally over Christmas to join us at this time of peace, glad tidings and joy.